As a P2P lending marketplace, we aim to give our peers the best product possible. We also firmly believe that without you, our wonderful product becomes senseless and a P2P lending marketplace cannot succeed without having a solid base of investors, who share the same goals we do. So now we intend to give a little shout-out to you – our investors – and thank you for believing in us and the goals we stand for at Swaper.
First of all, we recognize the impact global events like the Covid-19 pandemic can have on both national and individual financials. Therefore, we are grateful to all of you who remained with us through these challenging times! Impressively, quite many of our investors have maintained and increased their investments since the start of 2020.
Secondly, while it's important to note that our platform remains popular in certain countries, we're also happy to point out that there are investors from new countries joining all the time.
For example, while most of our investors come from Germany, France, Spain and Italy – there is also a small but very determined increase of investors from Czech Republic and The Netherlands. Overall, investors from over 30 different countries continue believing in our mission and goals, and new investors come over every day. Welcome aboard!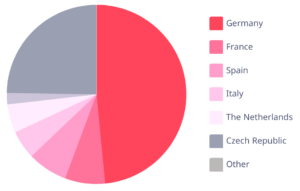 Last, but not least – we believe that investing should be for everyone – as long as you are from Europe, have access to the internet and at least €10 (or equivalent), you should be able to start your investment journey. And that's exactly what we offer at Swaper! We at Swaper would like to commend all of you for making use of our investment trust – the sizes of portfolios range from tens to hundreds and then to thousands. And all of our investors are able to take advantage of our loyalty bonus (earn an extra 2% per annum from Wandoo Finance loans) after reaching a certain account value! To find out more, click here!
We're glad you've chosen Swaper as your marketplace for investments! And if you've yet to join us – there really is no reason to hesitate – it takes as little as €10 to join our community of investors and start your investment journey! Join our family here!