We have some great news to share with you today. Namely, we are glad to announce that our Annual Report for the year 2021 is now completed – audited and published.
You're welcome to take a look at the 2021 annual report of Swaper Platform OÜ here. It will give you a good overview of the results and accomplishments as well as a glimpse of our ongoing work and goals. We know that you'll probably want to go through the document yourself, but we'll also give you a quick overview of some main aspects below.
Financially speaking, we've developed our business and as a result of that the revenues reached 2.15 million EUR (1.9m in 2020). The gross profit margin last year was 28%. Gross profit margin has slightly decreased in 2021 (from 34% in 2020) due to the fact that we have continued to expand.
For 2021 earnings before interest, taxes, depreciation and amortization (EBITDA) amounts to 160k EUR, compared to 95k EUR in 2020 and we generated a net profit of 114k EUR, while in 2020 we managed to make 89k EUR. The total amount of funds provided by platform users increased to 12.22m EUR from the 9.68m EUR in 2020. This clearly reflects the growth of Swaper platform.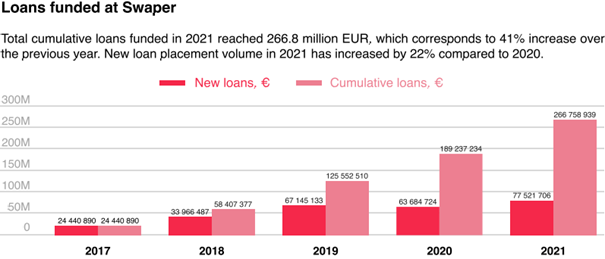 One of our main goals in general is to increase the number of loans offered for funding in a safe and secure way. And for this purpose, we are actively working on onboarding new loan originators. This is a relatively lengthy process as we need to go through a thorough legal review and due diligence process to onboard suitable partners.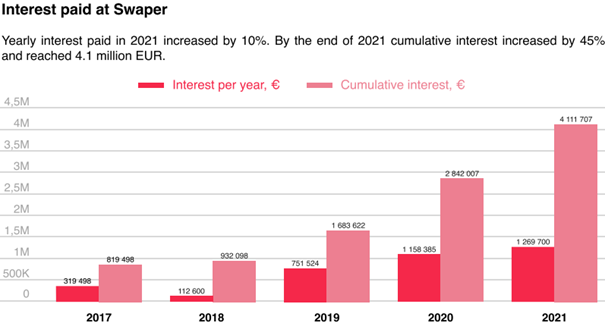 "Swaper is strong and performing well. Management is working to continue increasing the number of loans offered for funding by onboarding more suitable loan originators. Another important focus is the development of the platform and maintaining the satisfaction of the platform users with the Swaper services." CEO of Swaper Indrek Puolokainen.
At the same time we plan to develop both our website and mobile application as well as continue to provide excellent customer service for our users. All this to keep our users satisfied and happy. In case you have any questions or concerns regarding the financial statement or any other subject, please feel free to get in touch.