In 2013, the global P2P lending market was valued at $3.5 billion.
In 2019, it was valued at $67.93 billion.
And in 2027, it is projected to reach an astounding $558.91 billion.
The P2P market is growing at breathtaking speed, a reflection of the increasing demand for alternative financing and investing.
In the past couple of years, the European P2P investing market has more than doubled – even though it was first founded as a concept in the UK.
The Covid pandemic has caused P2P lenders to shift strategies, communicate with investors and even change business models.
We've summarised important P2P investing statistics into four groups:
Global P2P lending statistics
European P2P market
UK P2P market
Covid-19 and P2P lending
Global P2P lending statistics
In peer to peer lending, the market is currently valued at $67.93 billion and is projected to grow at a Compound annual growth rate (CAGR) of 29.7% from the year 2020 to 2027.
In the last year, average funding per loan has risen by nearly 50%, with the UK leading the European market with an expected $2.6 billion in transaction value. Switzerland follows with an expected $1.4 billion worth in P2P business loans.
P2P investing is becoming a lot more mainstream around the world, but let's dive into the specifics for Europe and the UK:
European P2P lending statistics
There are over 90 P2P lending platforms in Europe, with total funding of over €13 billion, and €346 million funded just in January 2021.
Mintos is the largest P2P lending platform in Europe, with 45,09% of market share.
Having said that, their business model is different to other P2P lending platforms: they provide a marketplace with over 70 loan originators that connect with investors rather than offering a direct exchange.
The most interesting statistic is the fact that P2P investing is growing more rapidly in Europe than in the UK.
From 2018 to 2019, European originators increased by 80%, from €3.6 billion to €6.6 billion. In comparison, the UK P2P market only increased by 10.7% and stands at €6.26 billion in 2019.
The European business P2P lending market is also growing steadily, with a year on year growth rate of 12.2%, and a predicted valuation of €7.1 billion by 2023.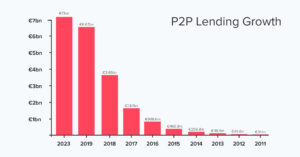 Many P2P lenders are based in the Baltic states, mainly because of the more P2P friendly regulations. Latvia and Estonia have six P2P lenders, and Lithuania has two. Latvia has the largest P2P market with a total of £3.2 billion in originators, followed by Italy, with £1.07 billion in originators in 2019.
In 2019, several P2P platforms went bankrupt including Envestio, Grupeer and Kuetzal. Despite those losses and the Covid pandemic, the European P2P lending sector is stronger now than ever before.
UK P2P lending statistics
P2P investing was first founded as a concept in the UK, where it quickly became a popular method of getting easier access to funding. However, since 2019, there has been a slowdown in growth causing it to grow at a slower rate than Europe. This is due to the uncertainties caused by the Brexit vote and its external influences.
The UK alternative lending market is now worth £6.26 billion. While the market more than doubled in Europe in 2019, it only grew by 10.7% in the UK. This is a step down from the 12% of annual growth that took place in 2018.
This is not due to lower demand; on the contrary, more small businesses are being established in the UK than ever. The issue is that institutions are taking lower risks: small business lending from banks was also down 3.6%, and consumer lending was down by 10% in 2019. Although there are more SMEs in the UK, access to finance is becoming stricter due to the uncertainty caused by Brexit.
The UK P2P market is interesting: there is a good spread of P2P platforms, but a large difference between big players and the smaller ones. In the UK, Zopa, RateSetter and Lending Works are the main consumer loan lenders, making up 97.8% of the lending in the UK.
Zopa is the world's oldest P2P lender as well as the largest in consumer lending, with originators increasing from £1.02 billion in 2018 to £1.07 billion in 2019. RateSetter used to be one of the large P2P lenders but was recently acquired by Metro Bank.
P2P lending during Covid
According to P2P banking sources, the number of P2P loans being processed did decrease in the first couple of months of the pandemic: first by 38.5% in March, and then 74.5% in April. This is echoed on Google trends data, where we see the number of P2P lending related searches dropping in March and April, and then increasing again in May. Volumes regained previous numbers in summer and further increased by 43.2%.
According to a European lending CEO survey by AltFi, 76% of CEOs say that Covid-19 adversely impacted their platform.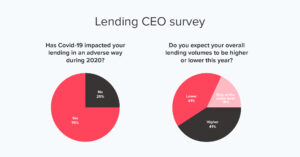 The Covid pandemic was the first crisis for all P2P lending platforms (except Zopa), and served as a great way to test the robustness of the platform and concept. Many platforms such as Mintos had to suspend some loan originators and impose stricter criteria, but many others, including Swaper, were still able to grow throughout the pandemic and even offer increased rates of return.
The Covid pandemic caused a few main unexpected events:
Withdrawal delays at the beginning of the pandemic
P2P lenders pausing lending or changing their criteria
P2P lenders having to allow three-month payment breaks to personal loan borrowers in countries like the UK
Some European P2P platforms were accredited to provide state loans
According to the survey, however, 73% European alternative lenders continued hiring throughout the pandemic and small businesses and consumers are still using alternative lenders to access finance.
In regards to Swaper, we published over several updates from the very beginning of the pandemic, and continue to share company news. When the pandemic hit, we had our own strategies in place and implemented accordingly.
Our proactive approach meant that there were no delays in outstanding payments on the Swaper platform.
We were able to remain in contact with lenders and loan originators and constantly monitor the situation.
Comparing to our Annual report of 2019, the number of users on our platform has increased by 73% and we now fund nearly €200m in total cumulative investments to users.