Dear investors,
It's been already almost two months in these current circumstances and we consider that we have successfully adapted. We are continuously following and monitoring the news around the world and the restrictions in several countries are starting to ease, including countries of our loan originators – Spain and Poland, which means that they will be able to slowly get back to the usual work conditions.
During the COVID-19 pandemic, the amount of issued loans has decreased, however due to great results of loan originators debt collections work, it's already planned to slowly increase the amount of issued loans. The interest rates, that were increased to 14% for our basic investors and 16% to Loyalty investors still makes a great profit to our investors and as importantly, Buyback and interest payments are still executed as usual.
Although, at the moment our main focus is on the consequences of the crisis, we are also making our platform much safer and advanced for our investors. We have already implemented the Touch and Face ID and in the nearest future we are planning to add the Two factor authentication as well, that will play an important role in securing our website and mobile app. Additionally working on some new features highly requested by our investors, to make clients account overview more advanced.
As we still working on making our platform more interesting, recently we successfully launched our referral campaign, that has been already honored by many of you. By simply referring us to a friend, our investors are able to earn attractive bonuses, based on the invested money of the friend in the first 30 days.
Last but not least, currently we are very close to finishing the financial audit of year 2019, thus in order to maintain transparency, we are sharing Swaper's financial results of the first quarter of year 2020: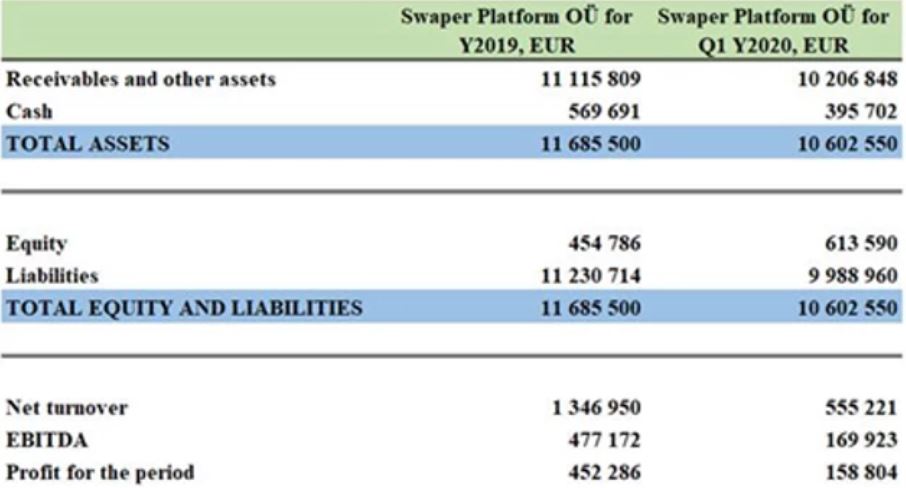 If you have any questions, please do not hesitate to contact us!
Your Swaper Team