Dear Investors,
Swaper has been operating as usual during October but happier because last month marked our 4th Birthday! There were increase in amount and volume of loans offered for investing that resulted of course bigger interest payments. Highlight was the Investor survey which gave us a lot info to make our platform functionally better and user friendly.
We conducted a Swaper Investor survey among our investors and got a good and honest feedback for our doings. It was good to hear that our investors value the way how we operated during the Covid situation in spring. Even though we had to move to home offices, then customer support was always accessible, and deposits and withdrawals were processed on a regular basis as we did before the Covid. Investors also noted in the survey that they would like us to work on improving investment tracking, high demand for auto-investing features and getting more loan originators on board in order to have more possibilities to invest. These suggestions we value and we are already working on these improvements and hope to publish them soon.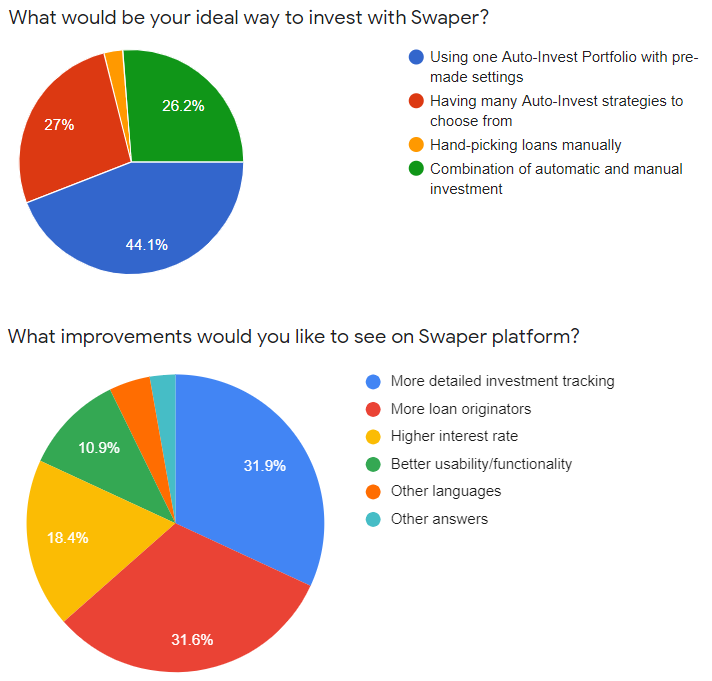 Swaper Investor survey results
For all the survey participants who wanted to get the Swaper Investor Kit we raffled 5 lucky winners who won the kit and we are preparing these to be sent out soon.
Our lucky winners are:
Thomas F.
Catharina R.
Xiaofang H.
Alexander D.
Kirsten S.
Let's look at the October numbers. Total number of loans grew to 592 thousand totaling cumulative volume to 178.6m eur which is the biggest MoM growth in 6 months. Total cumulative interest paid to investors reached to 2.6m eur. See more stats on our Statistics page.
The biggest product changes we are working on in the coming month focus on improving Auto Invest strategies and investment tracking (as were requested in the survey as well). In the blog we are going to share P2P investment stories and insights so stay tuned for new posts soon.
Have also look at our Facebook and LinkedIn page for news and more action.
Thank you for being with us!
The Swaper Team