Every year, the P2P investing world keeps getting more popular.
Did you know the industry is projected to reach a valuation of €500 billion by 2027!
As the industry keeps growing, so do the number of platforms available to invest in.
For those who are new to P2P lending, it can quickly get overwhelming!
In this comprehensive guide, we signed up to five of the best peer to peer lending platforms and offer an unbiased review of the process.
The 5 Best P2P platforms
We chose these platforms based on merit and popularity.
In no order, the top 5 best peer to peer lending platforms we reviewed include:
Mintos
Swaper
Peerberry
Bondora
Debitum
Here's a quick overview of each lending platform and how they compare:
(Continue reading below for more details on each platform)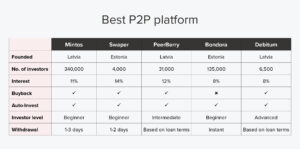 Using a simple criteria, we've reviewed each platform on Signing up & Depositing, Investing & returns, Withdrawing and Who it's good for.
Let's get started!
Mintos is arguably the most well known P2P platform.
The platform was launched in 2015 and is based in Latvia. They have four offices in several countries and more than 340,000 investors registered from around the world with more than €6 billion invested. They currently take up over 50% of the P2P investing industry – so yes, they're big!
Mintos' business model is based on the following: instead of matching investors directly with borrowers, they match investors with loan originators. Loan originators are essentially loan aggregators that are in charge of sourcing and managing borrowers.
Since they work with loan originators, they can offer a wide range of loans to investors. This is good because it means investors have a lot to choose from, but it's also risky since Mintos doesn't have as much control over the loans and the originators could go out of business (this did happen at the beginning of the Covid pandemic).
Signing up & depositing
Mintos' sign up process is straightforward. Like many other platforms, you need to verify your identity before you can deposit money. It only took us a few minutes to sign up and Mintos guides you through the entire process.
In order to create an account with Mintos you must be:
Over 18
Resident in a country where they operate
Not a UK resident (they are currently getting a license to operate in the UK)
Depositing money is straightforward and Mintos accepts transfers using Wise.
Investing & returns
Now to the good part:
how do you invest in Mintos' P2P loans?
When you open an account, you'll see that you can invest in almost 70 loan originators from 33 different countries. That means you have a lot of choice. Mintos offers two different options:
Mintos strategies
Custom strategies
With a Mintos strategy, you can pick between three portfolios: diversified, conservative, and high-yield. With one of these strategies, you'll be buying small fractions of several loans issued by different loan originators. Mintos reinvests your returns, and you can start or stop your strategy at any time.
If you prefer manual investing, Mintos also offers the option to select and manage your investments with Custom strategies. You can choose from a larger pool of loans, select according to specific criteria and automate certain parts of it (re-invest, for example).
The Mintos strategies are relatively straightforward to use, but if you want to invest manually through a Custom strategy it's best you learn about the basics of how to invest in loans and what criteria to look out for.
Mintos does offer buyback, but they don't include interest. That means that you'll get your money back, but if it's 3 months delayed you won't receive the interest you could have accrued.
According to their website, Mintos advertises a return of 11%.
Withdrawing
Mintos does have a secondary market, which means you can sell your loans whenever you want to withdraw your money. Keep in mind you'll need to pay a 0.85% fee and withdrawals usually take between 1 and 3 days.
Who is Mintos for?
Advanced investors who want a lot of choice
Beginner investors who just want something simple
Investors who want to use a well-known and vetted platform
Swaper (that's us!) is a P2P platform that launched in 2016 and is based in Estonia. It has over 4,000 active investors, with €212 million in cumulative investments. They currently offer consumer loans from Poland and Spain.
Swaper has a unique business model: similar to Mintos, they connect investors with loan originators. But at the moment, they've only partnered with one loan originator: Wandoo Finance.  Originally founded by Wandoo Finance, Swaper is now an independent company.
Investors have a good amount of choice for loans, and Swaper still has great control on the loans, which allows them to manage risk more easily.
Signing up & depositing
Swaper's sign up process was one of the smoothest and fastest. The overview is very clear, and there is no button cluttering. You verify your identity in the sign up process and you can immediately deposit money once your application has been approved.
To create an account with Swaper, you must be:
Resident of an EEA country or Switzerland
Over 18 years old
Have a European bank account with your name
Depositing money is very straightforward, and they accept bank account transfers from Wise.
Investing & returns
Swaper is a great P2P platform for beginners since it's one of the easiest to use as everything is geared towards the Auto-Invest Portfolio.
Although the design is clear and it's very easy to set up an Auto-Invest Portfolio, there are fewer options than there are with other platforms. This is great if you just want to set up an Auto-Invest Portfolio and leave it, but not so much for those who like to play around with the settings and get involved with the details.
Swaper offers BuyBack that also covers the interest for the whole period that you are funding a loan, so you're very unlikely to lose money. BuyBack occurs automatically when loan has been delayed for 30 days.
They also offer a very generous 16% bonus if you invest more than €5,000.
As per our website, Swaper reports returns of 14% (and 16% with the loyalty bonus).
Withdrawing
Swaper does make it very easy to withdraw money from your account. Although the loans are short term and you'll receive interest payments once per month, you can still sell on the secondary market without having to pay any fees.
Once you withdraw, you'll receive your money in one or two working days.
Who is Swaper for?
Beginner investors who like to set and forget their investments
Those who can commit €5,000 and want to earn a 16% return
Those who want a solid BuyBack scheme
PeerBerry is one of the largest P2P lending platforms in the industry. It's based in Latvia, and launched in 2017. It currently has over 31,000 investors, and similar to Mintos, matches investors with loan originators.
They mostly offer short term consumer loans, but they also do leasing, business, real estate and some long term loans.
To create an account with PeerBerry, you must be:
Be over 18 years old
Have a European bank account with your name
Signing up & depositing
PeerBerry has the most "tech savvy" sign up process by far: in order to verify your identity you use your smartphone and scan a QR code to sign up. You then take a photo of your passport and a selfie, and do an SMS verification.
They are open to investors from over 70 countries, although most investors are within the EU.
Depositing was also straightforward, and they were able to accept deposits from Wise. The entire process takes 3 – 4 minutes and it's very intuitive and easy to use.
Investing & returns
PeerBerry offers a lot of details on each of their loans. That means that it's great for both manual and auto-invest investors. The loans are highly detailed (i.e. you can find out the gender of the person you're giving the loan to), and it's straightforward to get started with.
Their auto-invest function is also easy to use and you won't need to follow any complex tutorials. If you are a manual investor, you will need to do a bit of research yourself and know what to look for when it comes to loans. They also offer a buyback for loans that are over 60 days late.
With a manual investment, our team generated returns of 8%, but on their website, they advertise returns of 12%.
some people have mentioned getting a return of 12.12%. PeerBerry also offers a loyalty programme of 1% increased returns for those who invest over €40,000 – not as generous as some other loyalty programs.
PeerBerry seems to be geared towards manual investors. Although the auto-invest feature is straightforward and easy to use, the level of detail of each loan makes it a great research tool for those who like to get in the weeds. PeerBerry is also great at communication and the CEO regularly appears on podcasts and interviews.
Withdrawing
The main negative of investing with PeerBerry is that it doesn't have a secondary market, which means you need to wait till your loan terms are finished in order to withdraw. Since most loans are short term, you won't have to wait that long to withdraw.
Who is PeerBerry for?
Those who don't mind not being able to sell immediately
Manual investors who like doing a lot of research
Investors who want clear and constant communication with a platform
Bondora is another large P2P lending site as well as one of the oldest, founded in 2008 and based in Estonia.
To date, it has processed more than 314.2 million loans and has over 135,000 investors. They mostly offer self-originated unsecured personal loans. Compared to other platforms, they don't source from loan originators, but instead act as a loan originator themselves.
This means that the risk is lower since Bondora has a line of communication with the borrower, but it also means that returns are lower and there aren't as many loans to choose from.
To create an account with Bondora, you must be:
Over 18 years old
Live in the EU, Switzerland, Norway or the UK
Signing up & deposit
The first thing you notice about Bondora's sign up process is that it's "gamified". when you sign up and pick Go & Grow – their most popular investment strategy – you need to pick a "purpose": e.g. retirement, education fund, etc.
Depositing is easy, but during the process, we had to communicate with customer support since it wasn't clear if they accept Wise transfer. It turns out they do, but only if it was from a Euro account.
Investing
After some research and reading P2P blogs and forums, we discovered that Bondora offers several portfolios: Go and Grow, Portfolio Pro and Portfolio manager.
Go & Grow is their version of an auto-invest portfolio, and like other platforms you just need to add your criteria and let the platform do the rest. It also doubles up as an alternative to a savings account, which means you can withdraw instantly. You can also set up monthly contributions to reach your "goal".
Their other portfolios allow you to invest manually. Returns are higher and more volatile depending on your risk profile. Bondora is one of the few platforms that allows you to customise your dashboard so you decide how much information you want to see.
Compared to other platforms, returns are low at 8% on average – although you can get higher returns if you invest manually.
It's also important to note they do not offer buyback compensation.
Withdrawing
As mentioned above, withdrawing from Go & Grow is instant. However, withdrawing from the other portfolios can only be done by selling through the secondary market.
Who is Bondora good for?
Those who like to choose different strategies based on risk profile
Beginner investors who like having a "goal" and gamifying the investing experience
Investors who are looking for an alternative to a savings account
Debitum is one of the smaller and younger platforms. It's based in Latvia, was founded in 2018 and has over 6,500 investors. They primarily offer business loans, with both collateral and no collateral.
Their business model relies on collaborating with loan originators to offer asset backed and secure loans.
To create an account with Debitum, you must:
Be over 18
Have a bank account in your name
Be able to provide a copy of your passport and share information about your financial situation
Signing up & deposits
Signing up with Debitum is complex and time-consuming.
Although you just need your email address to verify your account, in order to verify your identity you need to complete a questionnaire, upload a photo of your passport (instead of being able to take it directly through the computer), and upload proof of funds.
But, it's what is expected as they're dealing with businesses.
Their questionnaire asks you definitions of structured products as well as information on your business activities. Just from their sign up process, you can see how strict they are on security and anti-money laundering.
Although signing up was difficult, depositing was easy and they accept transfers from Wise.
Invest & returns
The Debitum platform offers an opportunity to invest in business loans and invoice financing, all with collateral in the form of property, business guarantee, invoices, inventory and company stocks.
As an investor, you can choose to set up an auto-invest portfolio and they offer you three different portfolios based on your risk profile. You can also choose from several criteria including credit score, interest rate, loan originator and currency.
Debitum takes security very seriously: they use third party risk assessors and internal analysts to review the performance of investments. You can read the Debitum Network's evaluation of each loan originator, which is incredibly useful if you are a manual investor.
They also offer buyback if a borrower is more than 90 days late.
According to their website, you can expect an average return of 8%.
Withdrawing
Debitum doesn't have a secondary market, which means you can only withdraw once you are at the end of the loan term. Since loan ranges can be a few days or even two years, it can be a long time to wait – so make sure to limit the total loan period.
Who is Debitum good for?
Investors who care a lot about security
Those who want to invest in businesses
Investors who are investing long term
Conclusion
So there you have it – 5 of the best peer to peer lending platforms.
As you can see, each P2P platform has a different business model, reporting approach and user experience.
The one that works best for you ultimately depends on your own preferences and goals.
The good news is each of these five platforms has been vetted and are regularly used by investors, which means you can be assured that they are legit and will definitely offer you above average returns.
Not sure which platform to get started with?
Try Swaper, for free. You can invest for as little as €10.